make your ideas come to life
Confidence in the process
Courage to make your idea a reality
Technical help on websites, social media, etc.
Dedicated support to get you to your goals
It's scary to go out and do it.
But what if you had a mentor?
As artists of any kind (music or not), and also as humans, we all want to make a difference. In a non-COVID world, we'd be making a difference by performing or teaching. 
Unfortunately, we can't perform like normal, or even teach like normal. How do we fulfill our artistic vision during this hard period?
That's where I come in!
My task is to bring your vision and ideas to their highest potential and maximize your reach and impact. I am passionate about helping others create change, impact lives, and feel fulfilled themselves. As a coach, I hold nothing back; you will feel fully supported and be able to ask anything you wish.
My personal experience has taught me many things. Not just the details of how to run a successful festival or a successful online conference, but what it takes to create true community and go beyond people's expectations.
In June, I directed a two-week online music festival with 104 students, 13 full-time top-tier faculty, and 16 part-time faculty. I recruited all those students (we received a total of 302 applications), connected with my faculty, and managed all the festival details. Even a few weeks after the festival, students still group video-chat and keep in touch because of the bonds they created during the festival.
Last August, I ran the very first summit for classical musicians, specifically string players, which was essentially an online conference with 30 incredible professional artists. I held a successful social media campaign and grew my email list and social media followers from 0 to over 1200 on both my Instagram and my email list.
These successes are completely reachable for you. And with me by your side, you can sidestep every pothole I've fallen into and leap past every obstacle I've encountered.
Yes, you can do it on your own! But should you?
My expertise will truly ease your uncertainty, your headaches, and will allow you to do way less work than if you were walking into your project with no guide.
Let me join you on your journey.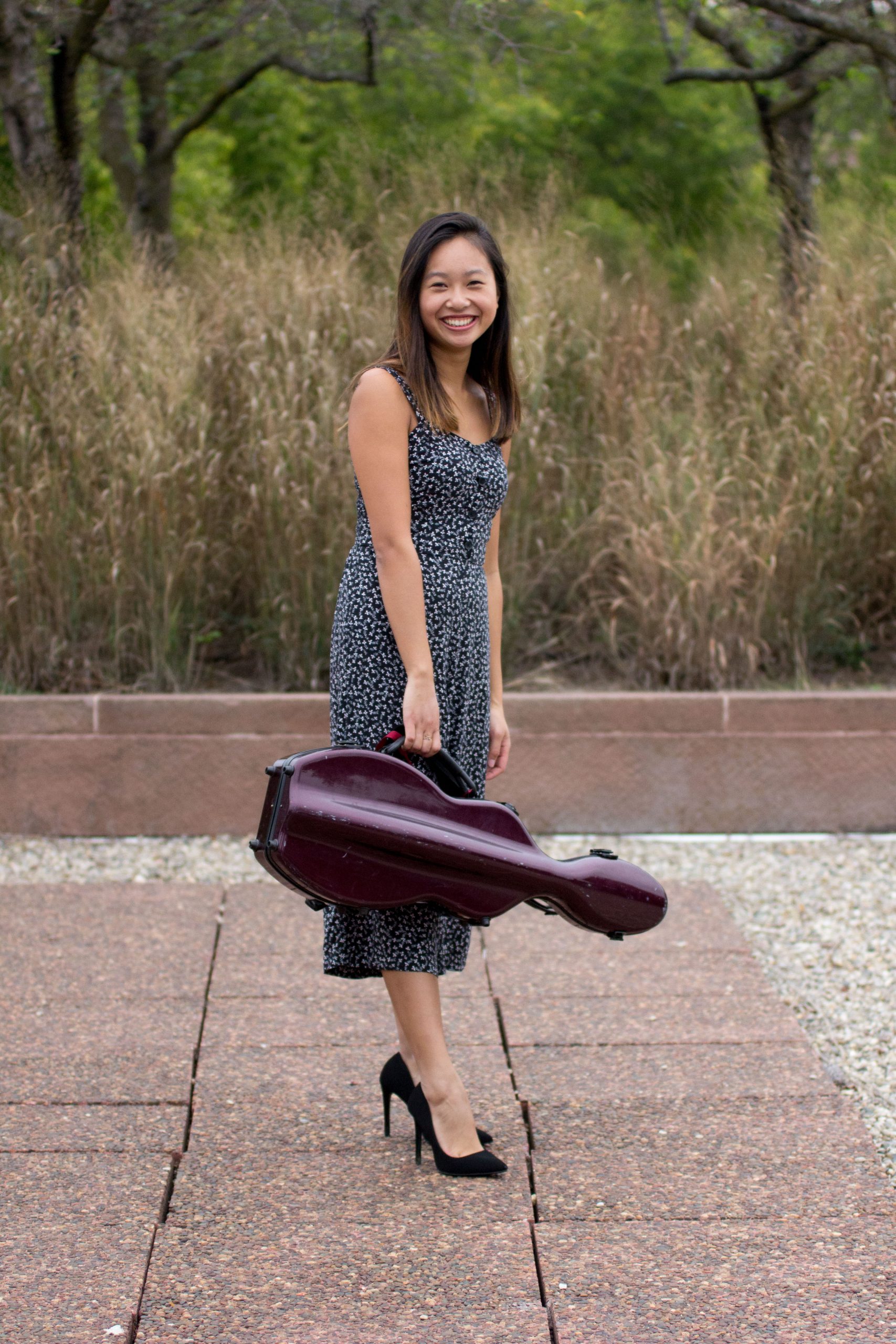 You'll learn directly under the incredible Verona Quartet, current Artists-in-Residence at Oberlin College and 2020 recipients of the Cleveland Quartet Award. Not only will they coach your group daily, but they'll also be giving a private concert for all of us to enjoy!

Come meet other high-level musicians from around the country, play some fulfilling chamber music, and of course, enjoy lots of sightreading and many late nights.
Be filled with great music, new friends, and a close community. Don't let this winter be uninspiring!
Applications open October 1, 2020, and close November 10, 2020.
The details
During this 3-month period, we're going to create a lot of change in your business life, and it might even translate to your personal habits!
Imagine being able to feel really confident about the success of your vision before it even materializes. That's my plan for you and totally manageable with me by your side!
We'll go into detail of everything you need without it being overwhelming so you can be sure that your vision can come to life in the best form possible.
Month 1: Planning
We'll dive into the why and how of your idea itself, what makes a good idea, and how to know this is "the one".
Questions we'll ask:
What's your strategy?
What type of event are you doing?
Who's your target audience?
What's your message?
How will you achieve your goals?
What software will you use?

What does your logo look like?
Month 2: Promoting
We'll go through social media strategies, and getting people actually in the door to listen to you and become a customer.
Questions we'll ask:
How are you going to reach your audience?
What mediums will you use?

What's your budget?

Where does your audience congregate?
What are your strong suits?
How do we make the message click with the audience?
Month 3: Polishing & Presenting
It'll all come down to how people enjoy your project, which means we want to make it shine! We'll make sure it's exceeds expectations.
Questions we'll ask:
What aspects and details will exceed expectations?
How do I blow people away?
What little details need the final touch?
How do we actually put this event/program/course into action?
Any potholes to avoid?
How do we get people where they need to be at the right time?
you should work with me because…
3 successful programs and counting!
Raised over $25,000 of donor and grant funds
Access to all my budget sheets, website copy, even templates
Genuine desire to help YOU succeed and change the industry
I do it all myself and will be able to teach you to do almost anything
Worked with several web builders and can walk you through most of them
Available for questions at any time
Recommended by all my clients
Social media is my jam! Our account has grown to over 2,200 in 8 months
Connections to many musicians
I've got all the promo codes - $20k in free processing on Stripe, discounts on many other products
You don't have to make the same mistakes everyone makes.
This is one of the most important questions. Goal-setting is something we will go over in the first few sessions, but what are important aspects of your project?
Growing Your Following
Building a following not only increases your credentials but increases your potential client list. If this is one of your goals, I can help! I took my Instagram and email list from 0 to 1200+ in less than 2 months and it continues to grow! It's now at over 2,200 after 8 months. Let's build a social media strategy together.
Creating Community
Community is deeper than just a following and this will increase people that are loyal to you and your projects. Let me help you build that community through true interpersonal interaction via Facebook groups, within your program, and long-term. Many of my past students in my programs still keep in touch!
Making Money
Don't worry–saying this is not only empowering but important! Never shy away from the reality that we need to make a living; helping people is the best way to do that! I'll be happy to show you my budget sheets and talk about hidden costs you might not expect.
Launching for Long Term
A sustainable life isn't just launching one project but creating long-term clients that want to follow what you do in the future. The best way to do that? Blow people away with your first project! They'll love your work and become lifelong allies. I'll help you manage details so everything is seamless and you'll seem like a pro!
Establishing Connections
Connections are everything, especially because the music world is so small. If you want to get in touch with a big shot, I've got experience! Let me show you my email scripts and how to get people to "yes" so you can interview your dream person and show them what you're made of!
Being Seen As A Leader
Being seen as a visionary and leader in your field is so important, and starting innovative projects is one of the best ways to do that. But you have to implement the project well to be seen as a forerunner. I want to guide you and help you push your way to the front, right where you belong. Let's dazzle them!
Frequently Asked Questions
How long is the program?
Private and group coaching both run for 3 months, or 12 weeks. Private coaching has no start date; you can start whenever is convenient for you and we will find a weekly time to meet. Group coaching has a specific start date. Schedule a consultation if you're interested in either option.
What does this cost?
Speak with Alyssa first for a consultation, then we can talk $! It's important that the cost doesn't scare you away – personal coaching is an investment, and a worthwhile one! You may not see the value if you're too stuck looking at the number.
What do I get with private coaching?
Weekly private coaching 
(60 min)
– tailored to you
– no question is off limits!
– all my own strategies
Email support
– ask me all your questions!
– private brainstorm or sounding board
– guaranteed reply in 24 hours
Access to my documents:
– email scripts
– budget sheets
– website copy
– ClickFunnels webpages
What do I get with group coaching?
Weekly group coaching meeting (60 min)
– big ideas, homework, things to think about, strategies I used
Monthly private coaching 
(60 min)
– ask me all your questions!
– private brainstorm or sounding board
Access to my documents:
– email scripts
– budget sheets
– website copy
– ClickFunnels webpages
Do I have to have an idea already?
Definitely not! If you know you want to do something online and have a general idea of what you'd like to do, or just know what you're good at, I would love to help you explore how you can put your skills to use.
Are there any requirements?
You must have a working computer or device with webcam. And a willing spirit! If you have no intention of listening to my ideas, it's a waste of both of our time.
Who is the program meant for?
This program is meant for any person (musician or not, although I specialize in music), who wants to create an online project. Your project can be a course, a summit, a website, a teaching studio, the list goes on. I have experience with in-person events, but don't specifically coach on those logistics.
Do you have a payment plan?
Yes! If you decide to work with me, there are 0% interest payment plans available. 
Want to dive in? let's chat.
I always offer a free consultation to see if we're a good match – I want to help you fully and sometimes I'm not the right person for the job!
If you think I am, schedule a free consulation and we'll talk through your goals and how I can help you.
Looking forward to meeting you!
schedule
email
Want to wait for a group program?
if private coaching isn't for you, I periodically do group programs. get on our email list to hear about when i'm starting my next program!