in-person strings intensive (IPSI)
COVID-safe chamber program for students
Procedures & tests to keep you safe
Daily coachings with the Verona Quartet
Private performance by the Verona Quartet
Final performance & other opportunities
Gathering with like-minded musicians
in-person strings intensive (IPSI)
COVID-safe chamber program for students
Procedures & tests to keep you safe
Daily coachings with the Verona Quartet
Private performance by the Verona Quartet
Final performance & other opportunities
Gathering with like-minded musicians
in-person strings intensive (IPSI)
COVID-safe chamber program for students
Procedures & tests to keep you safe
Daily coachings with the Verona Quartet
Private performance by the Verona Quartet
Final performance & other opportunities
Gathering with like-minded musicians
Learning alone without chamber music and collaboration 

just isn't the same.
I don't know about you, but I've been feeling burned out. I miss playing with others. And a recording project is just not the same as real chamber music.
We get it. Collaboration is an integral part of a musician's life. Even as a soloist, collaboration comes with pianists, orchestras, teachers, and colleagues.
With most schools not allowing even distanced rehearsals and many students opting for online classes, chamber music is hard to come by in a safe setting.
But if you're like me, you miss it. School just isn't the same without playing some of the greatest music ever and being able to rehearse with amazing musicians.
Join us for an incredible week of chamber music.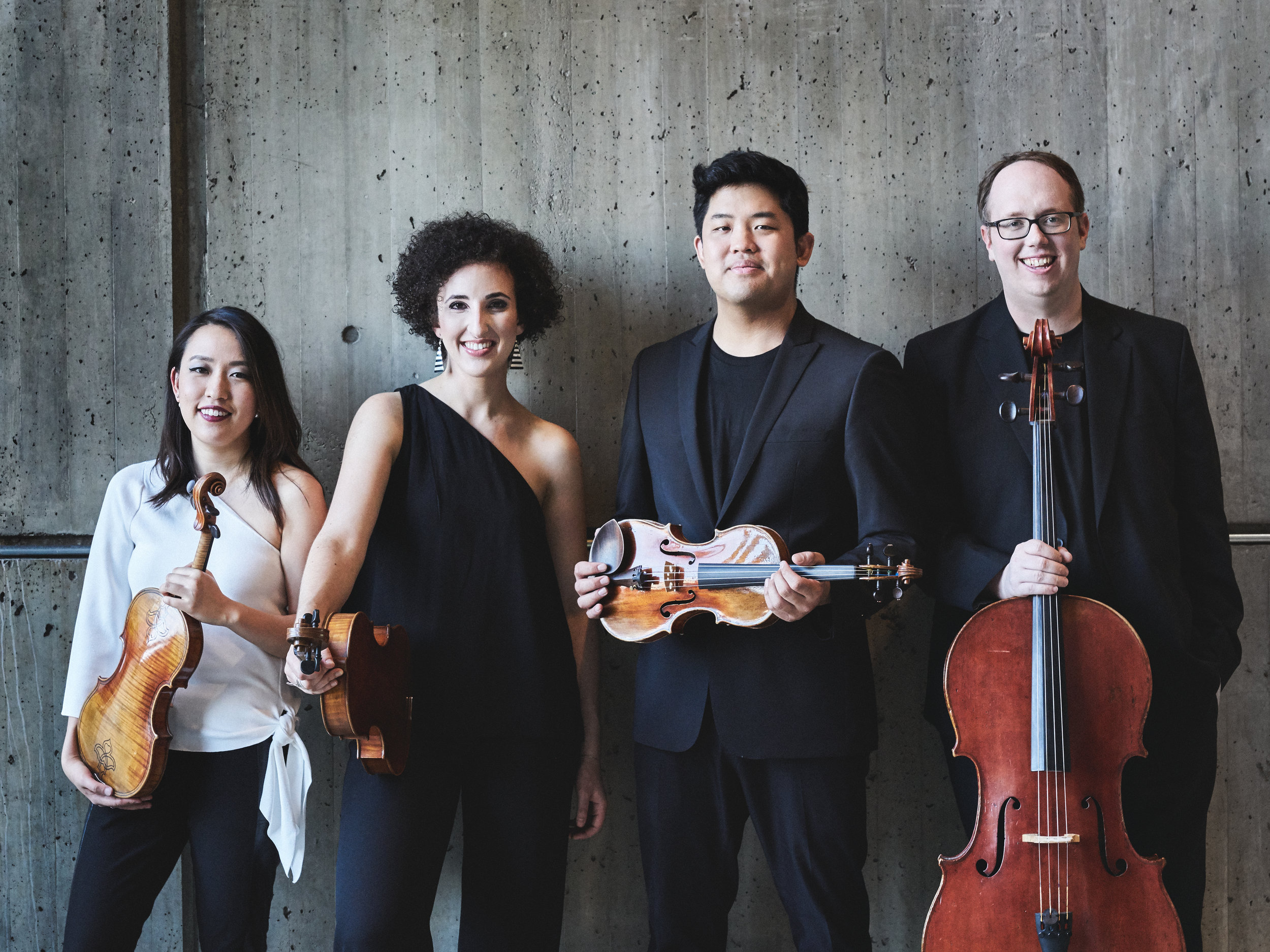 You'll learn directly under the incredible Verona Quartet, current Artists-in-Residence at Oberlin College & Conservatory and 2020 recipients of the Cleveland Quartet Award. Not only will they coach your group daily, but they'll also be giving a private concert for all of us to enjoy!

Come meet other high-level musicians from around the country, play some fulfilling chamber music, and of course, enjoy lots of sightreading and many late nights.
Be filled with great music, new friends, and a close community. Don't let this winter be uninspiring!
Applications open October 10, 2020, and close November 10, 2020. Photo credits to Dario Acosta and Kaupo Kikkas, respectively.
COVID-safe Policies
Safety is our #1 priority and COVID protocols will include testing, temperture checks, and more.
More Info
Scroll down for full policies that include rigorous testing, contant checks, full quarantine, and other safety precautions. Any other questions or further concerns can be directed to Alyssa via email.
Incredible Faculty
Learn under the award-winning Verona Quartet, M-Prize & Wigmore Competition Winners.
More Info
Acclaimed for its bold interpretive strength and electrifying performances, the Verona Quartet is the 2020 recipient of Chamber Music America's prestigious Cleveland Quartet Award. The Quartet's members represent four different nations, but their singular approach and unanimity of purpose in both musical and cultural cooperation have quickly earned the group a reputation as an "outstanding ensemble…cohesive yet full of temperament." (The New York Times) 
The Verona Quartet is one of the most sought after string quartets of its generation, delighting audiences at venues worldwide such as Carnegie Hall, Lincoln Center, Kennedy Center, Wigmore Hall and Melbourne Recital Hall, in addition to appearances at La Jolla Summerfest, Chamber Music Northwest, Bravo! Vail and the Chamber Music Society of Lincoln Center.
The Verona Quartet rose to international prominence by sweeping top prizes at competitions across four continents, including the Wigmore Hall, Melbourne, Osaka and M-Prize International Competitions. The Quartet currently serves as the inaugural Quartet-in-Residence with North Carolina's Chamber Orchestra of the Triangle, where it performs over ten concerts and forty community engagement activities annually. Strongly committed to education, the Verona Quartet is also Quartet-in-Residence for the Indiana University Summer String Academy and New England Conservatory Preparatory School. Further positions include the 2017-18 Ernst Stiefel String Quartet-in-Residence at the Caramoor Center for Music and the Arts as well as guest residencies at numerous institutions worldwide including Oberlin Conservatory of Music, USC Thornton School of Music, The Hartt School, UNC School of the Arts, Syracuse University, Lunenburg Academy of Music Performance and the Yong Siew Toh Conservatory of Music. 
Formed at Indiana University under the tutelage of the Pacifica Quartet and Atar Arad, the Verona Quartet went on to complete residencies at The Juilliard School with the Juilliard String Quartet, as well as the New England Conservatory with Paul Katz. The group also counts among its principal mentors Alex Kerr, David Finckel, Donald Weilerstein, Martha Katz, Merry Peckham, Miriam Fried, Kim Kashkashian and Nicholas Kitchen.  The ensemble's "thoughtful, impressive" performances (Cleveland Classical) emanate from the spirit of storytelling; the Quartet believes that the essence of storytelling transcends genre and therefore the name "Verona" pays tribute to William Shakespeare, one of the greatest storytellers of all time.
Fantastic Chamber Music
Play some of the best chamber repertoire with other incredible musicians.
More Info
You will be assigned to one string quartet (pre-formed groups are welcome to apply as individuals and note that you are part of a pre-formed group). Based on your past experience and requests, repertoire will be distributed.
Over the week, you will prepare one full string quartet with daily coachings. A final performance will occur at the end of the week.
The details
This is crazy, isn't it? We know. We take COVID-19 very seriously, but we also know that being without collaboration sucks so much joy out of music making. With only a small amount of students, in a secluded house, we believe it is possible to bring back the joy of chamber music while being safe.
We are accepting a maximum of 24 students (12 violins, 6 violas, 6 cellos). Students will be placed in quartets and pre-assigned repertoire based on their requests and past experience. Students may also request chamber partners, especially if your group is preformed (each member must submit an application separately). This program is intended for students ages 15-26; please contact Alyssa if you are outside the age range and would like an exemption.
Each string quartet will prepare one full work and perform it during the festival. Our fabulous faculty, the Verona Quartet, will give at least one hour-long coaching per day, as well as a full private performance for the donors, sponsors, and participants of IPSI.
Participants will reside in one large house (separate quarters for males & females), where everyone will quarantine together. Students will help prepare and serve home-cooked meals as part of their Intensive duties. Evenings are free for rehearsals, socializing, and sight reading.
Required negative COVID test prior to travel
On-site COVID test provided upon arrival
Any positive tests will be re-tested to ensure no false positives
Positive cases will be either sent to a hotel to quarantine (food delivered) or provided a quarantine room on site
Twice daily temperature checks
Airport pickup/dropoff - no stops to ensure no contamination
No outside contact, full quarantine for duration of the program
Daily sanitization of all surfaces and furniture
Food prepared on-site with food safety protocol
Online backup plans in place
If no one carries the virus and we all quarantine effectively,
no one will be able to catch it.
Morning Rehearsal
9:30am-11:30 (if on lunch duty) or 12:30pm, groups may choose to rehearse later instead
Afternoon Coachings and/or Personal Practice
1:30-4:30pm, coaching slots vary by group
Dinner
6pm, groups on dinner duty will start at 4:30
Free Time/Sight Reading/Other Activities
After dinner free time (you can even practice, if you want to!)
Frequently Asked Questions
How long is the program?
IPSI will be 9 days long, with 7 days for rehearsal. Arrival will be Saturday afternoon, December 26, and departure will be Sunday morning, January 3. Flight information for airport pickup/dropoff will be requested after acceptance.
You will be assigned easy kitchen duties (prep & cleanup) with your chamber group twice during the festival. We'll have fun making food together as a bonding experience!
Parking on-site is available for free and driving is encouraged to minimize exposure.
What is the tuition cost?
Total tuition is $925 for 9 days and includes 3 meals per day (1 meal for arrival & departure days) as well as airport pickup/dropoff. You are responsible for bringing your own music, a music stand, your instrument, and anything else you might need.
Is there scholarship available?
At the moment, there is extremely limited scholarship available. We are working on grants and donors and if scholarship becomes available, you will be notified with or after your acceptance.
You may indicate on your application your need; a written letter is the most important part of a scholarship appeal.
What are the age/level requirements?
We are accepting students from 15-26 years old. If you are younger or older, please email Alyssa for an exemption.
Level of playing should be very high; the admissions process will be selective. Many of our past applicants are playing major concertos, Bach sonatas/partitas, Paganini caprices, and Ysaye sonatas.
Where is IPSI located?
Our campus is located in Argyle, TX, on a ranch. We will be secluded from other neighbors and any contamination.
How will travel work?
You are responsible for travel. Included in your tuition cost is airport pickup/dropoff, and once accepted, we will ask for your itinerary to coordinate. Please book your travel for…
Arrival: Saturday past 12pm, December 26
Departure: Sunday before 12pm, January 3
Fly in & out of Dallas Fort Worth Airport (DFW).
Any other travel times must be approved by administration.
Driving by car is encouraged; free parking is available.
Can I pick my group members?
If you and a friend choose to apply, you may request to be in a chamber group together. However, final personnel decisions will be left to administration and there is no guarantee.
What are the application requirements?
You will need to submit two videos of up to 15 minutes total. We prefer solo material, however, if you are in a pre-formed group, please one member should submit a quartet recording.
Recordings should not be more than one year old and should contain standard repertoire, such as a movement of Bach and a movement of a concerto. No formal repertoire is required.
Is there an application fee?
Yes. You may submit an application to IPSI only, or IPSI and OSSI before November 10 for $40.
The application period to OSSI will continue until December 1 for the same price of $40.
Will you have a wait list?
Yes, we will hold a small wait list, in the chance someone withdraws or becomes sick. If you are taken off the wait list less than two weeks before the start of the program, tuition will be reduced.
You will be asked to accept or deny your spot on the wait list in order to facilitate a strong list.
When are decisions released?
Applications for IPSI close November 10, and you will hear back by November 15.
What happens if I get accepted?
Once accepted, you will have one week to accept or decline. If you choose to accept, we encourage you to purchase your airline ticket or arrange travel as soon as possible. You will be required to pay half the amount of tuition as a deposit when you accept. The second half of tuition is due two weeks prior to the start of the Intensive.
You will have until two weeks prior to the start of the Intensive to withdraw. If you choose to withdraw for any reason, you will not receive your tuition deposit back, and will be asked to find a replacement.
For other backup plans such as Intensive cancellation, see question below.
What are the backup plans?
If you have committed to IPSI but decide you cannot or will not travel, you will be eligible for a half refund, provided you notify administration at least two weeks prior to the start of the program and you are able to find a suitable replacement. We will keep a wait list to assist in finding a replacement. Any cancellations less than two weeks before December 26 will not be given.
The Verona Quartet will coach either in-person or virtually; their decision will be announced on Thanksgiving. This decision will not impact if IPSI will meet in person or online.
If there are formal travel restrictions from the government (highly unlikely), IPSI will transition to a fully online chamber festival, through musical decision-making "rehearsals" and coachings, playing with a recording (yes, you can feel the energy through a screen!), and a final recording project. This is a last resort and highly unlikely to occur.
What happens if someone contracts COVID?
While on campus, after rigorous testing, there is a very low chance of infection. Should this occur, the person(s) with COVID will be quarantined at the ranch in a secluded room. Everyone else will be re-tested and activities will be re-evaluated. If everyone else continues to test negative, we will proceed with caution, masks, and lots of Lysol wipes.
If a participant tests positive upon arrival, we will re-test to ensure it isn't a false positive. Student will be quarantined in a room (or hotel, depending on preference) and have food delivered. Student is responsible for their own accommodations after the end of the program.
Start your application Today. space is limited.
Applications open October 10 and close November 10. Decisions released November 15.
Click the left button to be notified when applications open.
ask a question
open application
Still have questions?
especially with coronavirus, we want you to be certain about your safety and the safety of those around you. Otherwise, looking forward to seeing your application!